A Special Sighting

Liberal Translation of Write-up by Silvano Lehmann
in FIGU Bulletin No. 29 (Schmidrüti, Switzerland: F.I.G.U., Sept., 2000)
J. W. Deardorff, April 2011
It was Saturday, the 20th of May, 2000, at 17:35. A busy sunny day with scattered, tilted clouds in the sky. I had just finished my dinner and wanted to go stretch my legs a little in front of the house. I saw Billy standing next to the garage [see map, No. 11]; he was listening to some unknown bird singing as I came up to him. High above us two gliders soared in circles. Briefly we looked at them, but soon our interest was directed back to the bird. We were puzzling over what kind of well known song bird it could be, when Billy interrupted the conversation in mid-sentence and suddenly seemed to look through me into the distance with an absent gaze, apparently listening to something.
A mannerism I knew of him when he received a telepathic call, which was clearly the case right now -- probably a telepathic call from the Plejarens, which was soon confirmed by the recognition it was the Plejaren Florena. For Billy suddenly raised his head and said: "There, look up, a ship is hanging between the clouds -- Florena." Immediately I looked up in the sky but saw only clouds at first.
Eagerly I looked among the banks of clouds and around their edges for a metallic sparkle that I was already almost familiar with. It was not long before I spotted, at the edge of a cloud, a roughly 8-10 m [estimated] large, disk-shaped, silver shining object that was illuminated in quiet flight by the evening sun's bright rays as it moved in its course along the big cloud.
After a few minutes of quiet observation we called the people who sat in front of the house -- and within a few minutes, our group of two had grown to a proud 17 persons. The first Aahs and Oohs came already soon after telling them to search the sky. Freddy Kropf immediately rushed up with his camera and began to photograph with the device, which was equipped with a 500 mm telephoto lens. The Aahs and Oohs became still more intense when, a little later, I could make out a second object of almost the same size to the right of the big cloud and pointed out this observation.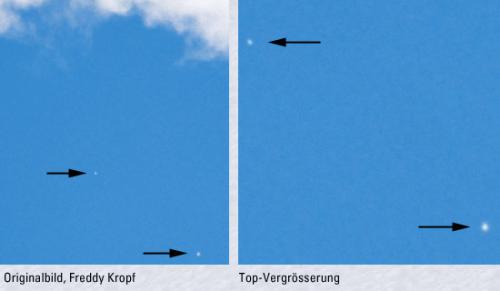 The sighting lasted from 17:40 to 18:10, so all of 30 minutes, before the two flying objects disappeared far in the east. During this time, we often lost sight of the two high flying, disk-shaped ships whose flight path was from west to east, but someone from our observing group would soon discover them again at the edge of a cloud. The altitude of the two distinct, high flying, silver discs was very high and difficult to determine on the basis of the clouds. All the while they were in constant movement and flew at times in and out and around the clouds in their slow journey.
The witnesses to this event were: Louis Memper, Switzerland; Daniela Beyeler, Switzerland; Christian Frehner, Switzerland; Andrea Grässl, Austria; Günter Neugebauer, Germany; "Billy" Eduard A. Meier, Switzerland; Freddy Kropf, Switzerland; Patric Chenaux, Switzerland; Simone Holler, Germany; Natan Brand, Switzerland; Barbara Harnisch, Switzerland; Atlant Bieri, Switzerland; Philia Stauber, Switzerland; Pius Keller, Switzerland; Robert Waster, Austria; Michel Uyttebroek, Canada; and Silvano Lehmann, Switzerland.